Technagon's premium wall boxes for professional use
Using high quality aluminum for the enclosure, Technagon's premium wallboxes ensure outstanding durability and longevity. Its elegant and sophisticated design was awarded the Red Dot Award. They are protected from vandalism and perfectly suited for (semi) public charging. The innovative charging modules can be conveniently exchanged, which means that you are optimally equipped for the future with the wallboxes.
The premium wallbox made of aluminum with two charging modules and 22 kW power each. Optional with stand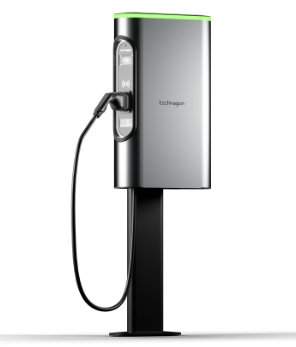 The high-quality DC wall box has an aluminum housing and a power of 50 kW. Optional with stand
Elegant and extremely robust, perfect for use in (semi) public areas
With a housing made of high-quality aluminum and stainless steel, Technagon's premium charging stations are extremely robust. The powerful charging points can be put into operation with up to 22 kW each – a reduction to 11 kW is possible. Each charging station can be easily configured with a fixed charging cable and payment terminal.
Integrated house junction box and meter cabinet, two charging points with 22 kW power each
High-quality 46" display and two integrated charging points, each with 22 kW charging power
The high-quality modules for Technagon charging stations integrate perfectly and are easily interchangeable
Technagon's premium charging stations have a standardized installation slot that can be equipped with different modules. While the charging module is available in variants with charging socket or charging cable, the payment module also supplies several charging stations if required. It can therefore be perfectly integrated into the charging infrastructure.
Calibration-compliant charging module with up to 22 kW power (11 kW possible), also available with fixed charging cable
We advise you which
premium charging stations

are suitable for your project.